Installations in: Armenia, Australia, Belize, Bulgaria, Canada, Chile, China, Colombia, Costa Rica, Ecuador, El Salvador, Estonia, Greece, Ireland, Italy, Japan, Korea, Mexico, Mongolia, the Philippines, Poland, South Africa, Spain, Ukraine, Taiwan and Uruguay.
Our first overseas installation was in Japan in 1986. Between 2002 and 2005, MCR installed five covered-lagoon digesters in Chile for the handling of swine manure and for carbon credits. Since then, MCR has provided engineering, procurement, and construction services in Ecuador, Mexico, and Australia. We have designed and built over one hundred successful digesters. Today, MCR routinely provides round, mixed-tank and covered-lagoon digester designs for biogas production from farm and/or food waste.
Martin Construction Resource (MCR) provides you with turnkey general contracting services to carry out all construction and subcontracting for your project. Or we can supply the digester design, manufacture the equipment, and provide expert guidance to your team's General Contractor to develop the project. You can trust our expertise to bring success to every aspect of your project, including (but not limited to), excavation, concrete, plumbing, wiring, and construction. Our parent company, Martin Energy Group (MEG), will be the primary engineering and technology systems provider for the biogas genset.
Our company culture supports simple, creative, and cost effective solutions to engineering, design and construction problems. In addition, our custom design services often result in an MCR project costing less than the competition, while meeting or exceeding other systems in biogas and electricity output.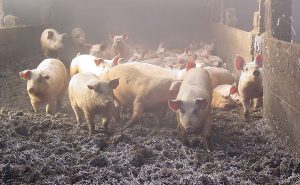 The Process
The initial steps taken toward site development will involve the compilation of a Scope of Work Document which is presented to the site owner for approval. After the client signs the Scope of Work Document, MCR proceeds with the site layout and structural drawings. Upon engineer review and approval of the structural drawings, the mechanical and electrical drawings are completed.
Site preparation in the form of earthwork is conducted while the materials and equipment are on order. Construction continues upon receipt of materials and equipment on site.
Installation proceeding during the construction phase includes field piping, digester piping, biogas flare, digester pumps, digester electrical, generator and piping, hot water system, gas piping, utility building electrical, and the separator system.
Our services also include startup, digester operations, troubleshooting, training, and comprehensive after-sales support.
The Benefits
Project Management
Turn your goals into a definitive plan of action and execute that plan, following proven proprietary methodology to keep projects on track and within budget. Identify project objectives and success criteria. Define individual tasks and ownership. Our project engineers work closely with you to align the project with your business strategy, define project goals, and establish success criteria.
Manufacturing Flexibility
MCR prides itself on our ability to manufacture over 75% of our biogas equipment onshore. You have project requirements, and we realize that off-the-shelf products just won't do. Manufacturing flexibility and creativity are key components to our success. We unite engineers with our equipment manufacturing team and with our procurement team for a seamless integration.
Support & Manage
Creating reliable and efficient energy solutions is important to your double bottom line. MCR can regularly maintain and support your project to meet optimum performance standards. MCR measures system productivity, performance metrics, and tracks trends.
---
Sample of Projects
Completion
Date
Project
Name
State
Country
Facility
Type
Output
Capacity (kW)
Dec-18
Commercial Fence
NY
USA
Industrial
560
Dec-18
KV Holstins
PA
USA
Ag
150
Dec-18
Reinford Expansion
PA
USA
Ag
500
Sep-18
Rockwood Farms
MA
USA
Ag
450
Aug-18
Belden Farms
MA
USA
Ag
300
Aug-18
PigCo Thyra
NSW
Australia
Commercial
Flare Only
Dec-15
Woodcrest Dairy
NY
USA
Ag
450
Aug-15
CEFN Strathane
Qld.
Australia
Ag
500
Dec-14
Tong Park
Qld.
Australia
Ag
500
Nov-14
Darling Downs Fresh Eggs
Qld.
Australia
Ag
250
Nov-14
Alten Mead
NE
USA
Comm. Ag
Steam Production
Feb-14
Greenwood Dairy
NY
USA
Ag
410
Dec-13
Longview Dairy
MA
USA
Ag
800
Sep-13
CPC Limebush
Qld.
Australia
Ag
170
Aug-13
CPC Lapunyah
NSW
Australia
Ag
158
Mar-13
Keefer Dairy
PA
USA
Ag
225
Jan-13
Yipppee Farms
PA
USA
Ag
500
Dec-12
Reinford-Frymoyer
PA
USA
Ag
225
Sep-12
Sensenig Farms
PA
USA
Ag
200
Dec-11
Oak Hill Farm
PA
USA
Ag
40
Jul-11
Ideal Family Farms
PA
USA
Ag
180
Feb-11
Kish View Farms
PA
USA
Ag
130
Nov-10
S&A Kreider Farms
PA
USA
Ag
225
Oct-10
Landyshade Farms
PA
USA
Ag
180
Sep-09
Pronaca Colorados
Tsachilas
Ecudaor
Ag
Flare Only
Mar-03
Agricola Super Ltda. (La Estrella)
Santiago
Chile
Ag
12 MMbtu/hr Boiler
Feb-03
Agricola Super Ltda. (Pocillias)
Santiago
Chile
Ag
22 MMbtu/hr Boiler